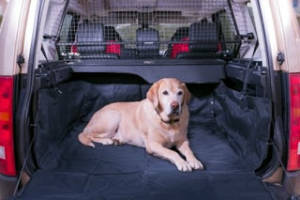 Many of us who have dogs frequently take our beloved pups out for car rides. While this can be a great way to bond and spend time with your pup, it's important to be aware of your pet's safety whenever you're in the car.
Never leave your pet unattended in the car. Even when the temperature outside is at a pleasant 70 degrees, the temperature in the car can climb to 90 degrees in 10 minutes.
Remove your pet's leash when riding in the vehicle. A coworker recently reported that her puppy nearly choked himself to death because his leash got wrapped around the center console.
Never allow your dog on your lap or to wander the car. Keep your dog in a secured carrier or in the back seat while traveling.
Turn off power windows. It may seem harmless to let your pet stick their head out in the breeze, but overly excited dogs have jumped out of moving vehicles. A dog can easily close the window causing the window to close on their neck.
Make sure to have fresh water and a bowl in case your dog becomes thirsty.
Everyone at Veterinary Associates of Cape Cod wishes you and your four-legged family members a happy and safe summer! If you're planning to take your pet for a ride along in the car, ask yourself if you'll need to stop anywhere. If the answer is yes, it's best to leave your pet home where it is cool and safe.