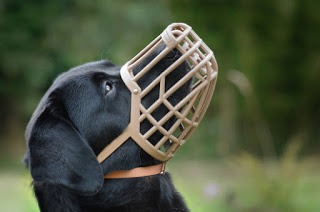 In our Happy Vet Series, we've touched upon simple changes you can try at home that can greatly reduce your pet's fear and anxiety when going to the vet. We understand that even with the most diligent training and positive reinforcement, some pets react aggressively when in a veterinary setting. As a veterinary staff member, rest assure that this reaction is not uncommon, and we try our best to make your pet's visit as stress-free as possible. Here are a few recommendations for historically aggressive pets:
Invest in a basket muzzle. Basket muzzles are great as pets can easily breathe and drink water while wearing them.
Give your pet time to become comfortable wearing the basket muzzle. We recommend applying the muzzle at home periodically so your pet does not associate the muzzle with going to the vet.
Try putting a sticky treat like peanut butter or squeeze cheese in the muzzle at home to make your pet comfortable wearing one. Your pet will learn that the muzzle is not a negative thing and often comes with a tasty treat inside!
Go for a quick drive with your muzzled pet. Once you get home, reward your pet with plenty of belly rubs, treats and any other positive reinforcement! This will teach your pet that a car ride wearing a muzzle does not necessarily mean you're going to the vet.
Next time you need to visit the vet, and you are aware your pet exhibits aggressive behavior, consider trying a basket muzzle. Give yourself plenty of time to allow your pet to become comfortable wearing the muzzle at home prior to their next visit. Make sure your pet enters the veterinary clinic wearing the muzzle – we recommend applying the muzzle at home with the aforementioned techniques. This should reduce you and your pet's stress level when going to the vet!