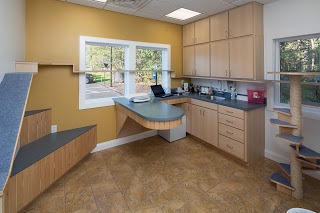 In our Happy Vet Visits series, we have touched upon what pet owners can do to help ease their pet's fears and anxiety when visiting the vet. We're going to switch gears and inform pet owners what we have done as a clinic to make your pet's visit less stressful, perhaps even pleasurable!
If you haven't stopped into Veterinary Associates of Cape Cod recently, you are missing out. We have undergone a complete remodel designed with pets, their owners and staff in mind. You'll notice dramatic differences when entering the hospital, having a seat in our lobby and in the examination rooms.
A huge change in our hospital is species specific waiting areas and exam rooms. This is huge for cat owners as many cats become stressed when leaving their familiar surroundings. Thankfully the days of barking dogs and stressed out cats sitting side by side prior to appointments are over! As soon as you check in at our front desk, have a seat in our spacious lobby. You'll find a cat only waiting area overlooking a beautiful 440 gallon saltwater aquarium. You and your cat can relax to the sounds of soothing cat music playing in this tranquil area equipped with Feliway diffusers that will help calm your cat.
When it's time to see your veterinarian, our room technician will lead you into one of our cat only examination rooms. These rooms have windows to the outside world, ramps and scratching posts, toys and treats, pheromone diffusers and warm towels for your cat's enjoyment and comfort. Relax to the soothing music designed specifically to calm your cat's anxiety. Remember our blog recommending specific carriers for your cat? If your cat feels safe in their carrier, our doctors will remove the lid from the carrier and examine your pet in their safe spot!
Checking out is a breeze in our newly designed facility. Simply make your way over to the discharge side of our front desk. Once you're ready to go, you'll find a new separate exit door – no more accidental encounters with patients entering the building!