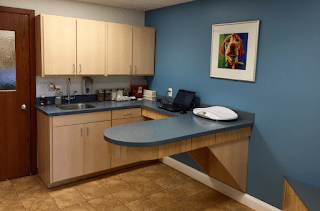 When our hospital went under renovations, we made a point to make the atmosphere as relaxing and inviting as possible. We understand that bringing your pet to the vet can be stressful, and while we touched upon some tricks that you can try at home, we made some major changes to the design with your comfort in mind.
Large waiting area with high ceilings. Even if you don't suffer from claustrophobia, it can be stressful if you're waiting for your appointment in a small waiting area.
Plenty of natural sunlight. Our lobby is filled with large windows allowing natural light to fill our entire lobby.
Pleasing color scheme. The colors of our facility were carefully selected to be pleasing to both pets and people.
Stunning 440 gallon saltwater fish tank. Relax and watch our captive raised tropical fish and corals.
Complimentary coffee, tea and bottled water is available at all times.
If you haven't had the opportunity to stop by and see our newly renovated facility, we highly encourage you to. All changes were designed to benefit both you and your pets. Additionally, if you're planning on going out of town, ask for a guided tour of our new Salty Paws Resort. There's no better or safer place to have your pets stay when you're away!