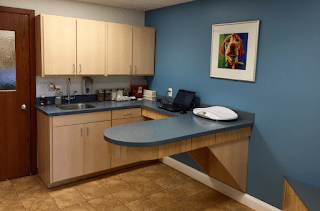 Our canine companions can suffer from fear and anxiety when going to the veterinarian. When redesigning our hospital, a major goal was to reduce anxiety for both pets and owners. Visiting your vet shouldn't be stressful, in fact, we think it should be fun! Here are some changes we made specifically with your pooch in mind:
Our scale is flush with the floor and equipped with an anti-slip surface. The days of forcing your dog to step up on a cold metal scale are over!
Expanded species-specific waiting area. Even with multiple dogs, there's plenty of room for everyone to sit and relax in peace.
Plenty of treats available in our lobby and exam rooms. Have a dog with food allergies? No worries! We've got you covered with hypoallergenic treats – just ask!
Adaptil diffusers in examination rooms are continuously releasing calming pheromones.
Soothing music in canine only examination rooms specifically designed to calm dogs.
Complimentary thunder shirts are available during your dog's visit to help ease anxiety.
We're excited to offer your dog the very best during his/her visit to our newly redesigned hospital. If you haven't seen our new facility, we recommend to swing by! Hospital tours are available upon request.