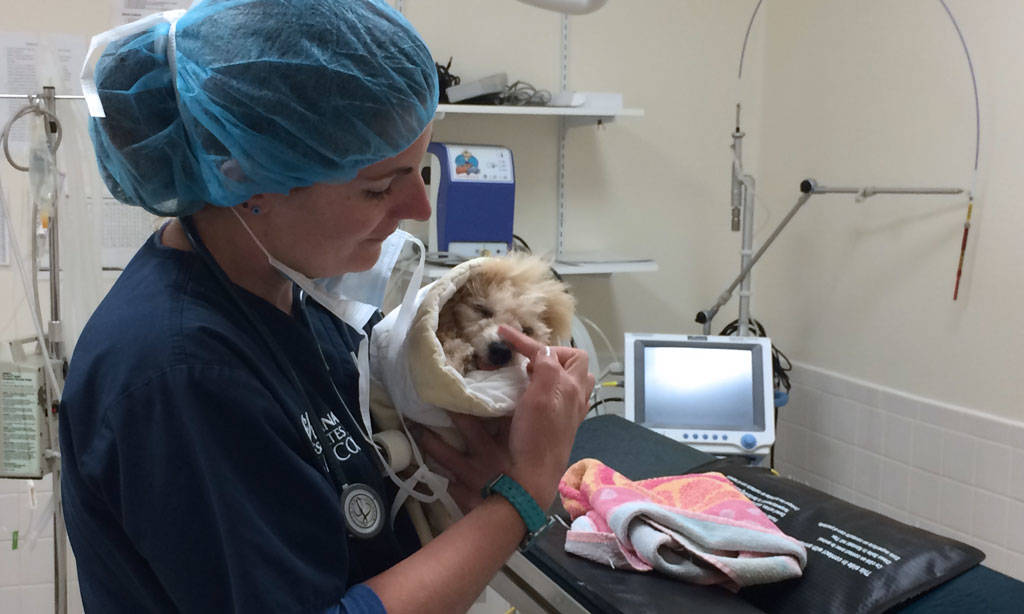 As with our approach to all of our services, we've taken additional steps to ensure that both our anesthesia and surgical procedures are as safe as possible.
We utilize the most advanced monitoring equipment and proven diagnostic techniques to ensure that minor and intensive surgical procedures are equipped for a successful outcome.
Here are a few of the key processes we use to ensure your pet is incredibly cared for while undergoing surgery:
Personalized Examination: Your pet's veterinarian will provide a comprehensive examination to check for any irregularities that may prevent or complicate the procedure. They'll also take the time and care to ensure your pet is comfortable and soothed before proceeding to step two.
Dedicated Certified Veterinary Technician: Our expertly trained technical staff constantly monitor and care for every sedated patient.
Pre-Anesthetic Sedative will be applied to reduce pain in your pet while keeping them totally calm and at ease.
An Intravenous Catheter will be inserted to apply a drug that helps your pet fall into a gentle sleep. Your pet will be given a precise mix of gas anesthesia and oxygen to ensure regular breathing during the procedure.
State-of-the-Art Monitors will be used throughout to display heart rate, blood pressure and oxygen saturation in real-time.
Intravenous Fluids will be given during and after the procedure to maintain blood pressure and regularity.
A Sterile Suite will be used during the surgical procedure, providing the perfect environment for a successful surgery without complications.
After the surgery occurs…
After the surgery occurs, anesthesia will be turned off and oxygen will then be administered to your pet. During a recovery period, your pet will receive pain medicine to ease any discomfort that may be experienced. Our veterinarians and technicians will monitor your pet closely to ensure that they're ready to be discharged and prepared to make a full-recovery before leaving our veterinary hospital.
In addition to neuter/spay procedures and common mass removal surgeries, our veterinarians are also qualified for Advanced Surgical Procedures like ophthalmic (eye) surgery, otic (ear) surgery, orthopedic (bones and joints) surgery, gastrointestinal (stomach and intestines) surgery, urogenital (kidney, bladder, reproductive organ) surgery and an array of cardio and respiratory procedures.
Veterinary Associates of Cape Cod is also the first veterinary hospital in our local region to offer minimally invasive surgical procedures including endoscopy and laparoscopy.
Dr. Labdon proudly oversees our entire surgical department and possesses over 35 years of surgical experience and training. He works directly with a team of technicians to keep a close eye on your pet and ensure they're provided with an unparalleled level of personal care throughout their procedure.
For the comfort of felines, our exam rooms have been designed to maximize their enjoyment, including exposure to natural sunlight, spacious windows, catwalks and freshly warmed towels to enjoy.
We've built exam rooms and waiting areas specifically as feline-only to ensure the absolute comfort of your feline friend during their visit. Our Salty Paws Resort Area also proudly accommodates a feline-only resort area.
Felines also enjoy an exquisite 440-gallon ocean aquarium, which has been proven to reduce anxiety for both pets and their owners.
We invite you to continue to read about the range of veterinary services provided by our pet hospital below: