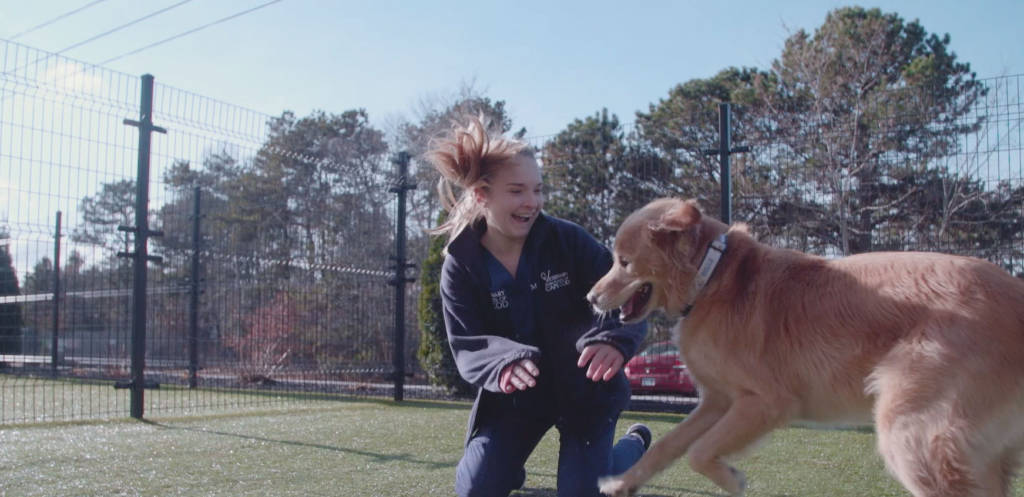 Sometimes it's time to get away and enjoy a trip out of town or a vacation! When this time comes, we want you to know that your pet is in the best care possible with Veterinary Associates of Cape Cod. In addition to our traditional animal clinic, we're also proud to offer our private, full-service boarding facilities for the enjoyment of your pet during your trip.
We work to keep the number of pets at our pet resort low, so that we can honor our commitment to a personalized experience any time your pet stays at our exclusive Salty Paws Pet Resort.
From incredibly designed and spacious accommodations, to a dedicated technician providing personalized care, we know there's something for every pet at Salty Paws Pet Resort.
Canines enjoy at least four play sessions per-day on our comfortable AstroTurf play yard, while felines have a dedicated technician to check on them regularly.
Pets of all ages and breeds have grown to love their time with us at the Salty Paws Pet Resort. We make it as easy as possible to coordinate their stay with us and to provide options that ensure they have a wonderful time while you're away.
The Salty Paws Pet Resort is happy to provide care to pets from across Massachusetts including Yarmouth, Truro, Provincetown, Bourne, Handwich, Falmouth, Mashpee, Barnstable, Wellflee, Eastham, Orleans, Chatham, Brewster, Dennis, Harwich and even outside of these local areas!
If you'd like to learn more about the services we provide, simply give us a call.
Cozy, quiet accommodations also help them to thoroughly enjoy their stay. Upon request, we're also happy to provide baths, brushing and pedicures at our resort.
Salty Paws Pet Resort:
Pampered Pet Program
We understand that it's difficult to leave your pets – even at a trusted resort staffed with veterinary professionals. But time will fly by while they are having fun! For this reason, we're proud to announce our Pampered Pet Program.
For a small additional fee per night, your cat will enjoy the following added benefits:
1 hour of play time in our "kitty only" exam room
Dedicated one-on-one play/bonding time with one of our dedicated staff members
Access to multiple scratching posts, toys and playtime chasing a laser pointer
Daily text update with photo
For a small additional fee per night, your dog will enjoy the following added benefits:
Leisurely leash walks with our resort staff
An extra half hour of play time in our outdoor play yard
Daily text update with photo
Frosty Paws Turn Down Service
A frozen treat before bedtime
A soothing bath at our Salty Paws Pet Resort (every sixth day)
If your pet requires a special diet or specific supplies during their stay, we welcome you to provide and label these supplies, so we can be sure to use all of your pet's preferred food, bedding and toys.
Since space is limited at our resort, we encourage you to contact us as soon as your next trip is scheduled. This will allow us to ensure we have adequate space during your time away.
The life of luxury is only a quick stop away at our exclusive Salty Paws Pet Resort!